"Your home should be a place of comfort." You've heard me say this before…on my Instagram photos, About page and in each of my previous BLB blog posts. But what about your office space specifically? Can that same level of comfort exist where you work? Even if that space is in your home?
Sadly, work isn't a comfortable place for a lot of people. We cringe at just the thought of Mondays creeping around the corner of the weekend and dread our commutes back into the office every day of the week. Some work on the road, in airports, hotels and from their homes, but no matter the location, one thing is true:
We cannot perform our best work if we are not comfortable in the environment we occupy.
That's something I've wanted to create for myself, and have been attempting to do since purchasing my first home in 2012.
The Beginning
My townhouse in Atlanta was a 2 bedroom, 2-1/2 bath home that sat on a cul-de-sac nestled in East Atlanta, exactly one mile from Grant Park and five minutes from Edgewood and Midtown. It was a move-in ready foreclosure that I found only by the grace of God and spent my last two years in Georgia making it a comfy home for Ralph and I.
I loved my first house for many reasons (and miss it dearly, especially when homesick), but it lacked a dedicated workspace. I was in grad school at the time and spent many nights camped out at my bar-height kitchen table with my Macbook, notes and textbooks scattered everywhere. Not that I cooked or hosted dinner parties often, but my kitchen was no place for such activities, unless by choice or for a group study session. Something had to give.
I eventually purchased and assembled a new white desk from Target and placed it between the windows of my guest bedroom upstairs. I then brought an upholstered Parsons chair from TJ Maxx up from the living room to give it a feminine seat. Though it looked quite quaint, especially paired with the matching bookshelf given to me by my sister as a housewarming gift, I never spent time in the makeshift office doing schoolwork as it just didn't feel as comfortable or convenient as my well lit, eat-in kitchen.
The Evolution
When I moved to San Antonio, I decided to use the designated dining space in my new apartment as an office. I gave away my old dining room table and since I was undecided about buying another house, purchasing a new table wasn't at the top of my priority list. In my new "dine-fice," I centered my Target desk on a black & white striped rug found at Marshalls before moving and adorned the walls with gold framed mirrors and girly phrases. The space was functional and comfy, but still not completely separated from the rest of the open floor plan. Without that clear separation from the living room and kitchen, my "dine-fice" seemed filled with distractions.
The Inspiration
Alas! I find BLB, and as you're well aware, I moved in just a few months ago. Using the existing furniture and décor I already had, I began to design my new home office. There are three bedrooms in BLB. The first I'm using as a guest room (stay tuned for blog post, "I Will Give You Rest" where that suite is featured) and the second right before the master is a slightly smaller room at the corner of the house. The windows are awkwardly placed and when the door is open, this room is the first thing you see walking down my hallway. I wanted to make the most of this space, if only with one décor item at a time.
Like most girls, I have a strong appreciate for the color pink. Already having several items that were black, white and gold, I decided to use shades of pink and magenta for my pops of color. I also wanted to incorporate as many inspirational quotes, bible scriptures and motivating visuals in my home office as possible. At that time, I had no plans to create a small business (aka BLB), but I wanted the office to inspire me when working from home (professionally) and help stir up the appropriate creative juices (personally).
Besides bold colors and inspirational language, I have a very strong love for gold (added a few more gold items including new knobs on my Target desk) and travel experiences. There are globes and maps displayed throughout my home reflecting this obsession, including a map I found in HomeGoods with just the right amount of pink! Other fun items in my office's corner gallery wall include a wooden dachshund from World Market, a deer head from Homegoods and a fabulous framed golden pineapple from Hobby Lobby. I wanted the room to feel fun and youthful, and I think I accomplished just that.
As seen in my portfolio album, "Hello BLB," the office has quite a bit of character and style. Here are some additional detailed shots of the space courtesy of my amazing photographer, Becca: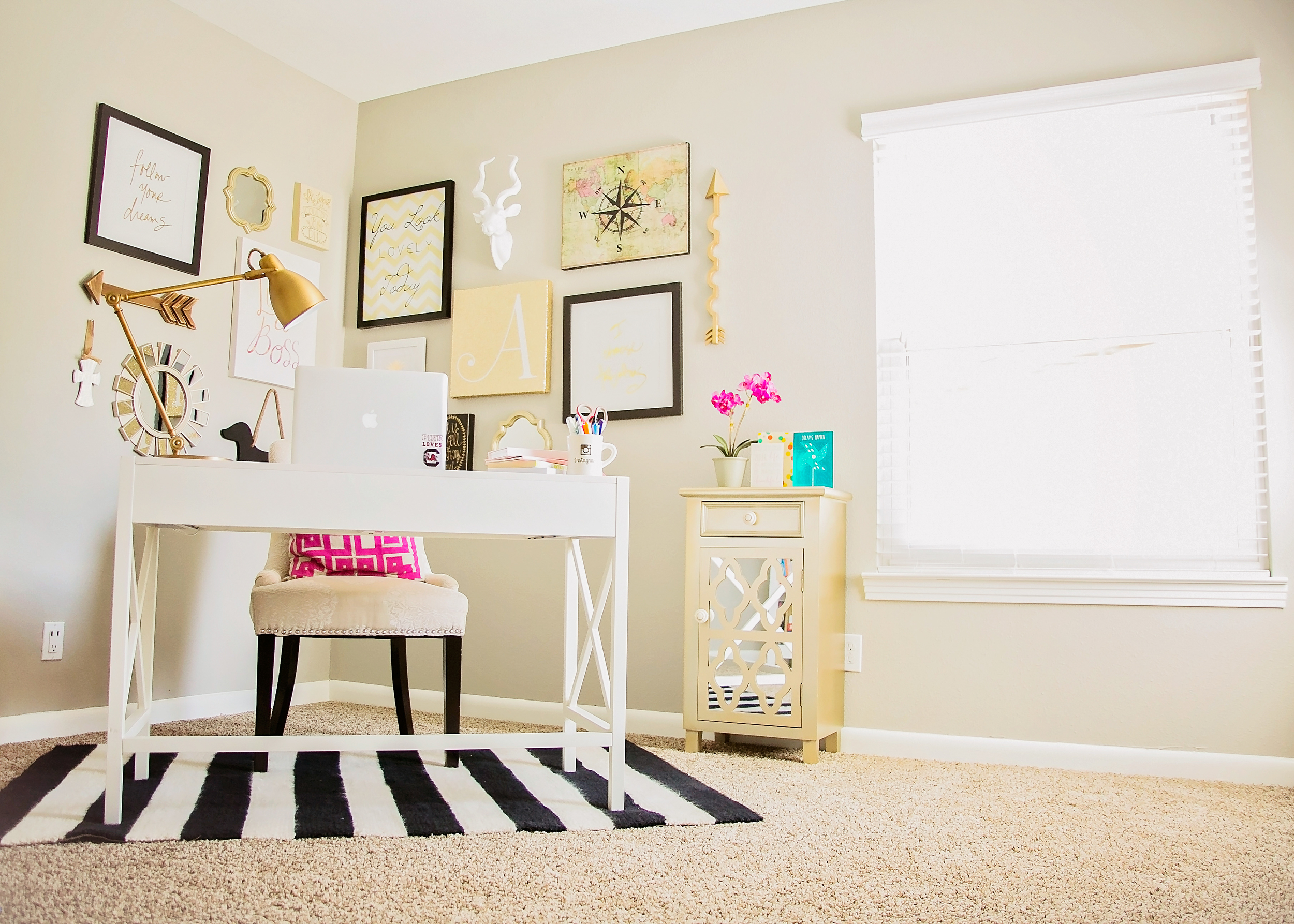 The Final Touches
If you follow me on Instagram, you've notice that I've since added a few more items such as a animal print bench found a few weeks ago in HomeGoods that I placed under my degrees, various pink pillows from Target, HomeGoods and Joss & Main and a thrifted magenta antique frame filled with inspirational polkadot post-its. I also swapped out my gold arm desk lamp (now in the living room) for a smaller Tahari gold and marble lamp discovered after church on Sunday on clearance at Marshalls.
As you can see, sometimes designing is not a sprint, but a marathon! After moving into three different spaces over the course of three years, I've finally reached a stopping point in my office design that I'm comfortable with. Despite my anal retentive nature and anxiousness to get everything in place, I think it's important not to feel rushed when designing, especially when undecided about important factors such as wall color and pricey furniture. Although I sometimes still camp-out with my Macbook in my kitchen and living room, I've achieved a level of comfort, energy and mood in the room that will keep me alert and focused on my marketing day job as well as inspired when writing and designing for BLB. I'll keep you posted on some ideas and projects I'm planning for my office space in the future including a new light fixture (that ceiling fan is new, but has got to go!), DIY stenciled file cabinet (just $10 from Goodwill! Still sitting in my garage.) and paint (well…maybe next year).
I hope you love my office space as much as I do and it somehow inspires you to find that comfortable spot or room in your own home to make working a little more enjoyable.
Work hard. Stress less.
ACG
Design Deets:
Desk - Target
Desk knobs - HomeGoods
Parsons chair - TJ Maxx
Bookcase - Target
Striped Rug - Marshalls
Black Framed Inspirational Quotes - Marshalls
Glitter "A" - HomeGoods
Faith Over Fear Cross - Kirklands
Like A Boss - Marshalls
Wooden Dachshund - World Market
She Believed Quote - Francesca's
Wooden Arrow - Hobby Lobby
Golden Arrow - HomeGoods
Globe Map - HomeGoods
You Look Lovely Frame - Joss & Main
Gold Pineapple - Hobby Lobby
Deer Head - HomeGoods
Various Gold Mirrors - HomeGoods, Marshalls
Instagram Mug - Instagram HQ
I Am Very Busy Day Planner - Bando, Altar'd State
Side Table - HomeGoods
Antique Magenta Frame - Laura's Vintage Closet
Various Pillows - Target, HomeGoods, Marshalls, Joss & Main
Gold Degree Frames - Hobby Lobby
Actual Degrees - University of South Carolina, University of Georgia
Animal Print Bench - HomeGoods
Professional Photos - Rebecca Crocker Photography