After being in business for five months, BLB has several clients from near and far on the project list and a few designs that I've recently completed! One I've affectionately named #ProjectIslandChic. It all began about three weeks after BlessedLittleBungalow.com launched, when I received the following email in my inbox:
Hi Amber!!!
I NEED YOUR HELP! I love every design aspect of your BLB. I am absolutely in love with your blog, and I feel like we are friends already. I believe this must be destiny. I don't feel comfortable in or proud of my home, and I need that to change. I have a budget that looks like the five loaves and two fish, but I believe in the power of prayer and multiplication. With your genius and God-given talent, I strongly feel that you can help me turn things around at this Converse, TX house. I would love your help! I look forward to hearing from you soon.
Thanks so much!
Katherin
I was immediately smitten. :-) Her personality shined through her first email and others to follow, and during our first meet-and-greet, her smile proved she was right – I'd made client and friend for life!
Katherin found BLB on Houzz shortly after I created an Interior Designer page on the website. Katherin is married with two beautiful children. She and her husband purchased their home in Converse at the end of 2014. She loves her house, but has never felt completely comfortable there. This is something I hear often from my clients, most of them being busy moms with very busy lives. Her husband, a member of the United States Air Force, is currently serving our country in Afghanistan and she wanted to make over their living room before his return this fall. It was such an honor to be apart of this sweet surprise and I wanted to do everything in my power to help Katherin create the perfect living space for her family.
Here's where it all started…
The room was pretty bare, a work-in-progress that had been abandoned by new babies and shifting priorities. There were beautiful dark wood floors that reminded me of my own and tons of wall space to play with. Upon move-in, the family painted the room a bright aqua with an off-white trellis stencil added on the back wall. My first instinct when visiting the home was, "Let's paint these walls IMMEDIATELY!" LOL! However, the room and stencil was all hand-painted by Katherin's husband. She didn't want him to feel like his hard work was unappreciated during his homecoming, so this was one of the few non-negotiables of the project. Katherin expressed how much she wanted the room to be a multifunctional "adult space" to entertain as the toddlers and their toys had completely taken over the family room in the back of the house. She also wanted to add additional seating and create a "wow factor" for guests as soon as they entered the home. Katherin loves African art, mirrors, silver accents, family portraits and houseplants. "Greenery is very important," I remember her telling me. She also wanted to leave room for a piano to be added in the space at a later time. She loved a Pinterest photo I randomly found complimenting her aqua walls and really wanted the rug that was in it.
After sourcing the rug and discovering it would be out of stock for months (not to mention it was also $850 – a HUGE fraction of the budget), we decided to move forward without it, but use the turquoise and coral color palette as a point of inspiration.
After playing with a few different mood boards and design layouts, I was inspired and determined to turn Katherin's living room into the tropical oasis she wanted by first prioritizing the following must-haves:
Seating
Katherin had a large brown sofa in the room that HAD to go. I encouraged her to list the sofa on Craigslist to support the furnishings budget while we searched for a new sofa or sectional. There were also a few dining and side chairs in the space that would not be incorporated into the design. After hunting in person (Rooms To Go, Ashley Furniture, HomeGoods, etc.) and online (Wayfair, Amazon, IKEA, etc.) we finally found the perfect sectional at Macy's and sitting chairs from Joss & Main. A room that once had no thoughtful seating arrangements now had a TV entertainment space, reading bench and sitting nook all within the same four walls.
Lighting
One of the first things I noticed about the room upon entering (besides the aqua walls) was that Katherin had a ton of envious natural light! The windows had 2" faux wood blinds, but no curtains or drapery. There were also a few mismatched light fixtures as Katherin updated two of them from IKEA, but never got around to the other. With such bold walls, we'd need to create some consistency and simplicity with new fixtures, curtain rods and drapes. We found a new ceiling fan at Lowe's and a glammed-up crystal light for the front door. The silvery grey panels were purchased from HomeGoods (along with several other items throughout the room). Although the rear of the room wasn't used as a formal dining room as the original floor plans designated, we kept the updated chandelier Katherin picked out to give the back wall some much needed character.
Family
A family room should be filled with FAMILY! As mentioned before, the room was pretty bare, so I wanted to make sure we adorned the textured walls and new shelving with family photos and faith, another important part of the household. Katherin is Jamaican and her husband is Nigerian. I proposed we find two inexpensive atlas maps representing each country on Etsy for the main gallery wall. Underneath we'd place a new mirrored console table found in HomeGoods to create a welcoming entry and walkway behind the sofa. We also created a reading area near the front windows where Katherin could read one of her many books now located on the new shelving from IKEA and the Word, as represented by the three scripture canvases she found at Ross Dress for Less.
Once the must-haves were all located and purchased, we filled in the gaps with décor items from my favorite stores, HomeGoods and Marshalls. The only original items that remained in the room were the TV and its mahogany console.
And wow, what a transformation! Here's the final product of the project (For a peek at all of the photos, check out Island Chic in my Portfolio):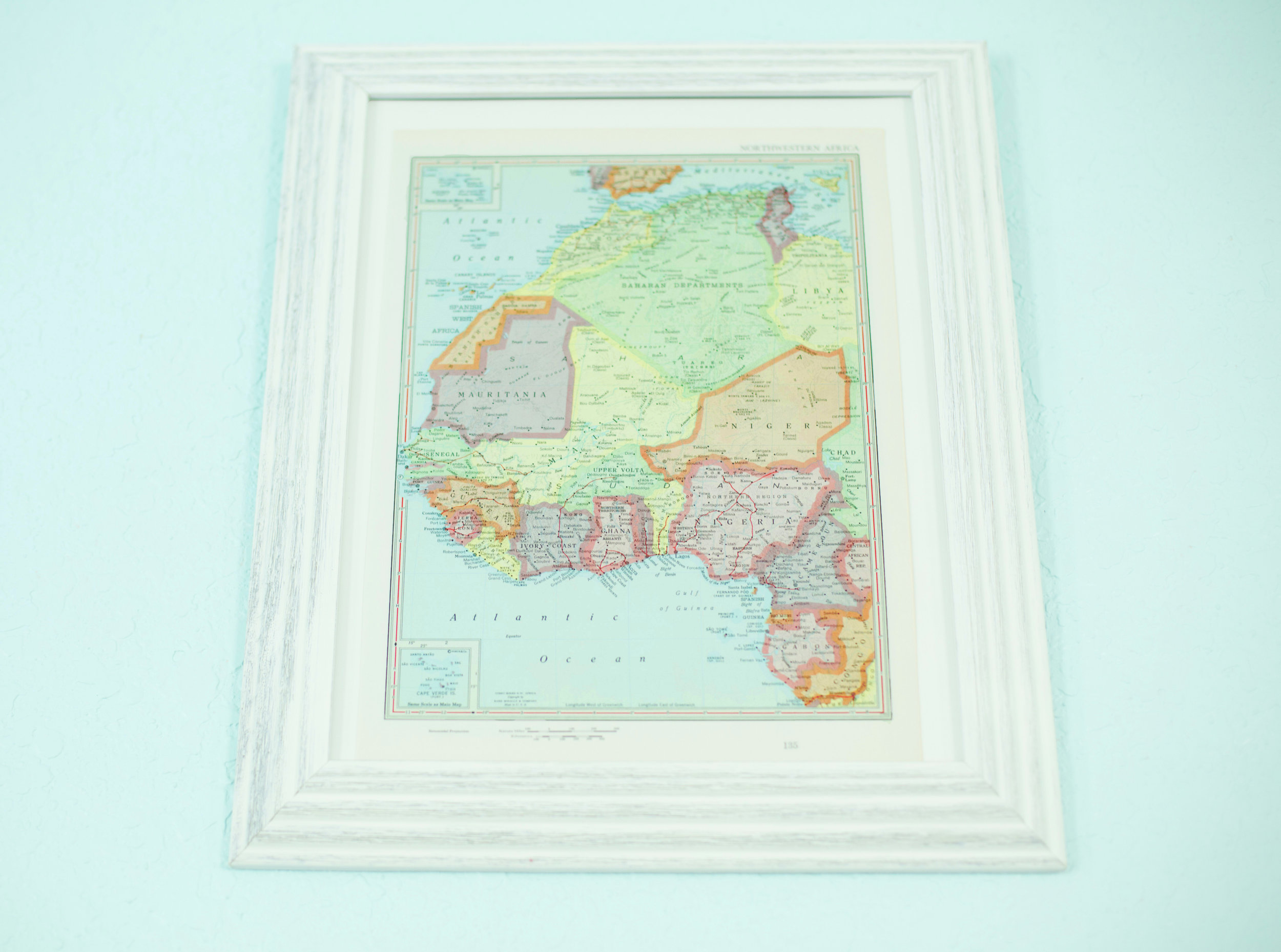 I had SO much fun working with Katherin on #ProjectIslandChic! After months of texts, emails, shopping trips in and around San Antonio and one to Austin and Round Rock, and scouring every area HomeGoods and budget-friendly home décor website for the perfect furniture and details, we successfully created a space that Katherin is proud to show off and welcome friends and family into. I think the best part of this project was the difference I saw in Katherin at the end. In May, she was completely overwhelmed with the thought of decorating and spending money (LOL), and admittedly her biggest challenge was indecisiveness and buyer's remorse when purchasing home decor. By July, not only was Katherin SUPER excited about every shopping trip and purchase, she was buying things on her own like a true designer! Key items like her Moroccan print rug, upholstered bench, coffee and side tables were all purchases she picked out by herself. That made me very proud and I confident that my work there was done. I think we taught each other a ton and I can't wait to hear how her husband reacts to the room when returning home next month from deployment.
Thanks for blessing me and BLB with a wonderful client experience, Katherin! I wish you and your family all the best and hope this new living room is filled with laughter, joy and precious memories for years to come!
On to the next project…. :-)
Be blessed,
ACG
Design Deets:
Sofa – Macy's
Side Table – Ross Dress for Less
Coffee Table/Ottoman – Ross Dress for Less
Moroccan Print Rug – Ross Dress for Less
Mirrored Table – HomeGoods
Book Shelves – IKEA
Vase – Marshalls
Planters – Ross Dress for Less
Scripture Canvases - Ross Dress for Less
House Plants – IKEA
Large Mirror – HomeGoods
Coral Throw – HomeGoods
Shelving Décor – HomeGoods
Pillows - Ross Dress for Less, HomeGoods
Upholstered Bench – HomeGoods
Sitting Chairs – Joss & Main
Standing Lamp – HomeGoods
Toucan Canvas – Ross Dress for Less
Side Table – Ross Dress for Less
Curtain Rods – HomeGoods
Ceiling Fan – Lowe's Home Improvement
Door Mat – Marshalls
Curtain Panels – HomeGoods
Picture Frames – Marshalls, HomeGoods
Baskets – Marshalls, HomeGoods
Flowers – Trader Joe's
Professional Photography – Becca Paige Photography