Good things take time and the best things are always worth the wait. This is true for writing a best-selling novel (or editing one, as my client, Liz does) and the same can be said for designing the perfect home office for a hardworking mom and stepmom of five!
Liz is a terrific lady. Like most of my clients, she's a family woman that puts everyone else's needs before her own. After marrying the love of her life, Steve, she and her son gave up their quaint and perfect San Antonio house to move into her husband and four stepchildren's larger home further in the city. That's right – Brady Bunch style! After quitting her 15-year corporate gig in communications, she transitioned to being a stay-at-home mom and owner of her own editing firm, House Style Editing. As an editor and writer herself, Liz specializes in helping authors tell their stories in the best way possible. She's been passionate about reading since she was a child and has aided the refinement and publishing of several books through her business. Liz juggles her blended household like Wonder Woman and loves this new chapter of her life, but when it came time to work, she wasn't too fond of the space she was limited to editing in. Let's have a look, shall we?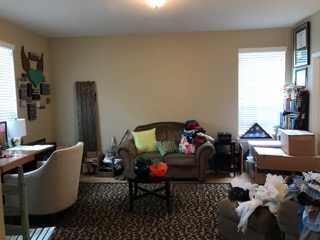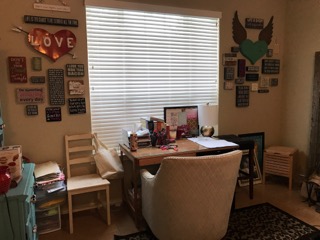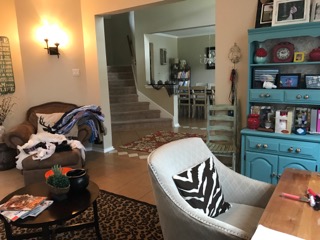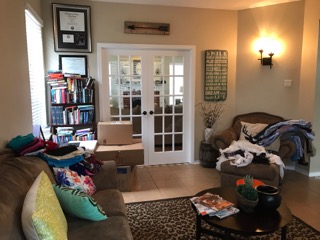 Upon entry to their home, Liz's living room-turned-office is at the right of the foyer. The first thing I noticed was that there was a lot going on. The space contained a matching love seat, chair and ottoman at the center of the room along with a cheetah print rug, coffee table and tons of boxes. The cream-colored walls, likely original to the home build, were covered with what seemed like dozens of wooden quotes and two diplomas. Her small, DIY'd desk was off to the side in front of the window surrounded by more boxes, craft supplies and knick-knacks collected by Liz over the years. There was also a beautiful blue cupboard topped with family photos and more knick-knacks. I'd later learn that this was Liz's only resource for storage and organization besides the desk's drawers. This wasn't exactly a home office. It was a storage room full of what was left of Liz's previous home's furniture that she just so happened to write, edit and record videos and podcasts in. Though a lot was present, there was also a lot missing: a clean space for a clear and creative mind, a beautiful backdrop for Liz's video calls and recordings, and a workroom that actually worked for this very deserving entrepreneur.
After evaluating Liz's office space and consulting about her needs, we sat down and identified items that should stay and go, selected a suitable layout and began planning the first steps towards the new design.
My first assignment for Liz was simple: Clear the Clutter! It's a lot easier to imagine a new floor plan once you can see how much space you're working with. She'd need to sift through the contents of the room and eliminate anything that would not add value to her new workspace. This included all of the sitting furniture present. Liz's office did not receive many visitors, so all of the chairs besides her own would need to disappear. Liz gifted the loveseat, chair and ottoman to her sister that recently moved to the U.S., removed all of the wooden quotes from the walls and began hauling out all of the unnecessary paperwork, boxes and knick-knacks that filled the space. What a difference this task made! Once complete, five items remained: her beloved leopard print area rug, current desk chair, refurbished desk, an at-capacity bookshelf and the beautiful blue cupboard. I suggested Liz move her current desk and chair to the center of the room, facing the foyer for all to see. I asked that she leave it there for a week so she could see how comfortable she was with the new layout. After a vote of approval, we decided to nix her current desk and chair with something a bit bigger and bolder.
Halfway through our planning phase of the design project, Liz's mom gifted her an incredible abstract canvas painting that would soon become the color palette of the new office. (Yes, her mom actually painted this! Talent runs in the family!) It included every color of the rainbow and reminded me of houndstooth because of the brush strokes' pattern and hints of black and white. Prior to Liz receiving the painting, we thought a stenciled accent wall would look great behind her desk, but we'd pull out a bold color from the painting instead that would give the space a completely different look! During our paint color hunt at Lowe's, we picked out a few fuchsia and magenta samples for Liz to test on the wall and contemplate over for a few days. In the end, she decided Berry Brown by Valspar was the perfect choice. I just LOVE the color and was so thrilled we took the risk on one so rich and bold!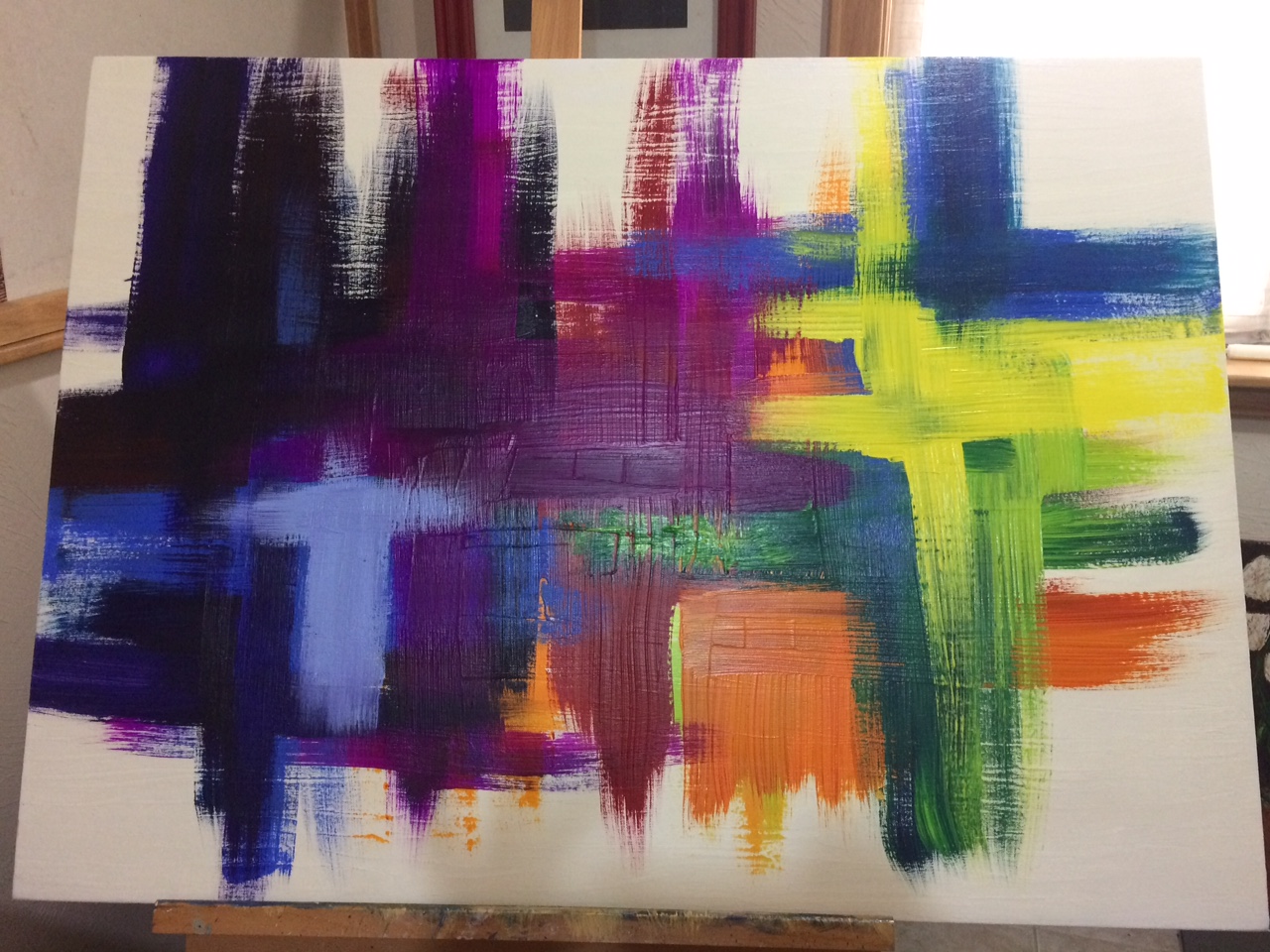 Now that we had the backdrop of the room and our workstation front and center, we need furniture to frame it. During one of our first shopping excursions we found a navy blue and gold painted desk from At Home that was the perfect size for Liz. She's about 5 ft. tall, so although she wanted a larger desk, she also didn't want it to swallow her whole either! This writing desk was a great compromise and looked terrific at the center of the existing leopard print rug. Its gold X-shaped legs would begin the theme of gold and brass accents we'd ultimately incorporate throughout the design. All we'd needed now was the right sitting chair complementary in size for Liz to work from. I wanted to find something bright and scoured World Market, Wayfair and several other retailers to find the perfect piece. After church one Sunday, I wandered into a HomeGoods (my weekly ritual) to browse through their newest furniture additions, and there it was. The PERFECT yellow-green nailhead sitting chair was standing at the entrance staring me down. I immediately text Liz that I'd found "the one" and had it purchased and held for her pick-up. Other purchases like the new pink upholstered storage bench in front of one of her windows, a rolling craft organizer and several other knick-knacks were sourced and purchased in this exact fashion. We'd later select floral fabric from Hobby Lobby for her custom drapery, wall shelves from World Market, curtain rods and rings from Crate & Barrel, a bookcase for behind her desk from Target and several other decor items from HomeGoods, Target and various inexpensive retailers. We'd also end up DIY-ing a few items including wallpapering the back walls of her shelving and creating unique framed prints for her gallery wall artwork. As new lighting was installed, curtains hung and the new furniture pieces positioned, we both fell in love with how Liz's new office took shape and became a space bursting at the seams in creativity, conversation pieces and girl-themed fun!
Would you like to see the final product? Here she is:
I couldn't have dreamed of a more beautiful result for Project Mompreneur Office and had so much fun designing, shopping for and staging this gorgeous home office with such a phenomenal client. I think we learned a lot from one another and have become a mutual source of inspiration creatively and as girl bosses in our respective fields. Thank you, Liz for allowing me to bring your new home office to life!
For more photos of this project, check out Mompreneur Office in my Portfolio. And to learn more about Liz and House Style Editing, please visit her business blog and website, housestyleediting.com.
Until next time, be blessed!
ACG
Design Deets:
Wall Paint: Valspar
Writing Desk: At Home
Desk/Sitting Chair: HomeGoods
White Bookcase: Target
Brass Shelves: World Market
Curtain Fabric: Hobby Lobby
Curtain Rods and Rings: Crate & Barrel
Craft Organizer: Marshalls
Lighting: Wayfair
Throw Pillows: At Home, HomeGoods
Globe: Hobby Lobby
Boss Lady Artwork: HomeGoods
Brass Paper Organizer: Target
Picture Frames and Craft Paper: HomeGoods, Hobby Lobby
Trash Can: Target
Hour Glass: Hobby Lobby
Lamp: Target
Mouse Pad: Amazon
Photography: Me
Photography Edits: Quture Media