There's no better feeling than buying your very first home! It's a fulfilling accomplishment that not only makes you feel like you've made it, but also that you've earned the badge of being a responsible adult. Though picking out and purchasing a home seemed stressful for Ryan at first, picking out and purchasing furniture to go in it seemed like the more difficult task.
Ryan was born in Seoul, the metropolis capital of South Korea. He and his twin brother were brought to the U.S. and raised in Dallas, Texas by their loving adoptive parents. After living and renting in San Antonio for 11 years, Ryan decided it was finally time to buy. He purchased a beautiful, remodeled, craftsman-style bungalow in Downtown SA and was anxious to make it his own. Before closing, Ryan reached out to me to learn more about BLB and seek my assistance. I couldn't be more excited to help!
Here is a look at Ryan's living room upon moving in: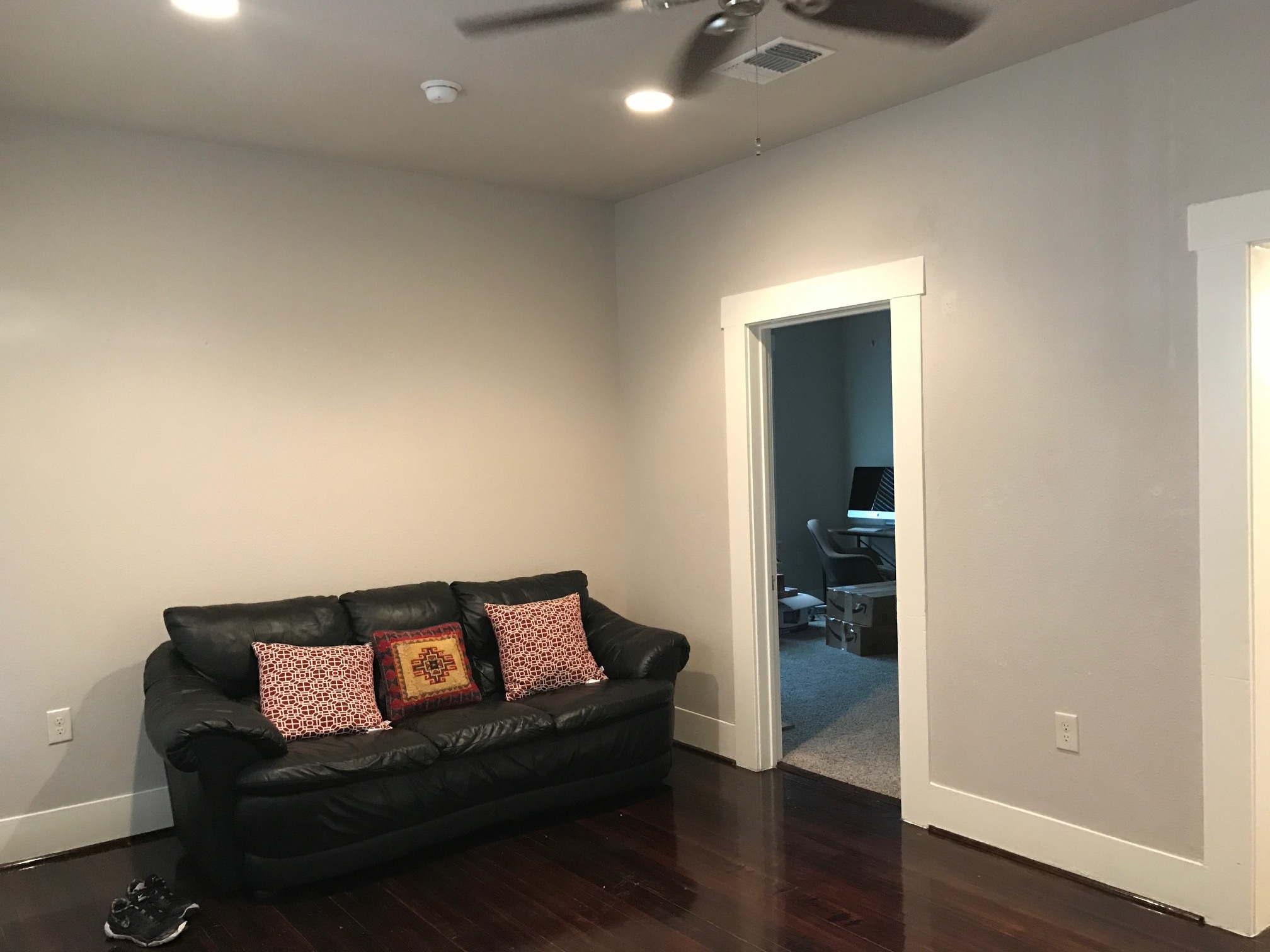 So how exactly does one build a room from a blank canvas? One that's both pleasing to the eye and feels right at home? This challenge isn't quite as complicated as one may think. Here are a few places to start:
Comfy Seating
The first thing you should purchase for a living room is obviously the seating. Think about what you plan to do in the space and with whom. How many people live in the house and will potentially visit? Where will they sit and how do you want them to feel?
Ryan loves mid-century modern design, which eventually became the space's theme. But for the sofa, we decided to go with something classic. Chesterfields are an old-fashioned, yet modern furniture choice that is loved no matter the current era or trend. Its stature is very masculine, yet their famous tufting adds just enough detail and femininity that provides a healthy balance no matter the taste or gender of the homeowner. We found this black faux-leather option from Joss & Main that would surely be the focal point of the room's back wall. For a pop of color, we also added this oblong green chair I spotted in Home Goods. Lucky for Ryan, this still left plenty of space for him to rearrange and add additional seating in years to come.
One of the things I love most about the living room is the small breakfast nook off to its side. The bright space outlined by large original windows and a built-in bench just needed a unique table and cushions to make it more comfortable. Though we originally wanted custom upholstery, we opted for throw pillows and a classic, mid-century Mercury Row dining table from Wayfair. Whether sharing brunch with a few friends or enjoying a mug of coffee solo before the workday, this dining space now affords the right amount of comfort no matter who takes a seat.
Floor to Ceiling
Sometimes we are so eager to dress a room with new furniture, we forget about the walls and flooring. You don't want to crowd the space with too much furniture, and specific curtains, rugs and wall hangings can truly make or break a room. For the only window in the living room space, we decided to frame it with a few mid-century modern touches from West Elm. We chose a brass and wood curtain rod and geometric white, silver and horseradish drapery that would add some height, pattern, warmth and fun to the wall.
For the hardwood floors, we continued the geometric theme, but with a more neutral color from Wayfair. The subtle pattern on the black and white twill rug offered a nice contrast to the primary colors we'd add to the space. I found the perfect geometric brass and wood round coffee table from West Elm as well. One might rightfully be nervous about combining so many different patterns and textures, but this combination did anything but clash and I couldn't dare leave this beautiful table in the store. In addition to its stylish look, the floor sample was also discounted, which made us even happier!
Running low on wall space and continuing with the brass and mid-century modern theme, I found a pair of gorgeous 2-foot brass and wood shelving from Home Goods and Ryan picked out a unique wood and carbon coat rack from France & Son. These bold additions would bring just enough character to some of the shorter walls in the room.
Identity
Lastly, your space should reflect whom it belongs to. Personal touches based on who you are, your interests and location should be present in the room. Ryan is a huge film lover. To add some color, symmetry and conversation to the gray walls, I suggested he find and frame two or three classic movie posters that he loved. I'm obsessed with his choices and the primary colors that we'd carry throughout the remainder of the room.
On the existing mantel built-in and new wall shelving, we added maps of Ryan's old hometowns - Seoul and Dallas, family photos, books and knick-knacks that each carried a special memory or meaning. Now the fireplace has some new friends to keep it company.
I love the way this living room turned out! What was once a vacant, narrow entryway to this house is now an eclectic, defined entertaining space any gentlemen would adore. Take a look: