What's every fashionista's dream? A closet full of designer shoes? A shopping spree on Rodeo Drive? Unlimited deliveries from StitchFix? Well for this frugal fashion blogger, all she wanted was a pretty space that screamed FAB, but within a fabulous budget.
Zaria is a human resources professional by day and a fashion blogger by night. She's the beautiful face behind aDoseofFab.com, covering personal style, beauty and all things fab! Zaria emailed me a week after Project Chateau Chanel was revealed, a space I created earlier this year for Melissa Chanel, another fashion and beauty blogger based in Charlotte, North Carolina. Zaria explained that she'd just moved into a new apartment in the Queen City two months prior. In her email she wrote, "I want it to be full glam - but on a budget, and maybe using what I already have to create what I want. I'm also a personal style blogger, and after seeing what you did with Melissa Chanel's glam room, I'm in love. I'd love to know my options, and get to creating!"
After sharing my services and consultation questionnaire, Zaria sent in her responses the same day with photos of her entire home (wow, she wasn't playing when she said, "get to creating!" LOL). After jumping on the phone and getting more acquainted a week later, we got to work right away!
Now let's see where it all began, shall we?
Similar to Melissa's, Zaria's second bedroom was pretty bare and full of IKEA furniture and random knick knacks from previous moves. Though she had her makeup vanity, full-length mirror and ring light in place for blog shoots, the room's current condition was far from the glam room Zaria desired and deserved. She needed my help and I couldn't wait to get started!
Similar to her A Dose of Fab logo, Zaria was interested in greys, blush pinks and rose gold for the color palette. I took her ask into consideration, but wanted to share a few other color schemes as well:
I'll never forget Zaria's reply after receiving the first batch of mood boards via email: "OMG OMG OMG! I LOVE everything! I can't choose, but I will definitely get back to you ASAP. You are amazing, I'm so glad I picked you for this! Best, Zaria." Talk about the best compliment ever. I was cheesing with pride, joy and appreciation for the rest of the week.
Soon, Zaria made a decision. We'd proceed with the blushes and bold pinks, but pull in a little grey and black & white for the design as well. I began Pinterest pinning and browsing furniture online to share a few options at a time for every piece we'd need to purchase.
One by one, Zaria began selecting her favorite items from the choices I presented to include in her space.
Of all the rugs shared, there were two front-runners that Zaria absolutely loved. After considering her options, she agreed with me that the nuLOOM Soft and Plush Handmade Moroccan Abstract Multi Shag Rug available on both RugsUSA.com and Overstock.com would give the right colorful pop to the neutral carpeted floor.
A white desk with gold legs was a no-brainer, but many of the options were too pricey, out of stock or required DIY to get the glossy legs we were looking for. After a few frustrating attempts, we finally found the perfect desk on LuxeDecor.com. Though the vanity chair options I presented were doable, some were too large for Zaria's 5-foot frame or too expensive for her budget. She decided to purchase this classic blush chair from TOV Furniture, and it's absolutely perfect.
One of the most important additions to the space would be artwork to add flair, fashion and fun to the new berry-colored walls. We found the most gorgeous and authentic Oliver Gal canvases that just oozed fashionista and #BlackGirlMagic on Wayfair.com and decided to mix in other inspirational quotes, scripture and art found later in local stores.
After completing the final design board, the blueprint was set! Zaria had a few weeks to order each item from our shopping list before I arrived to help select the remaining home décor during shopping trips and complete the project install.
When I arrived to Charlotte the week of Independence Day, Zaria's entryway was full of boxes from floor to ceiling. She'd ordered everything from the shopping list and we began to unpack and assemble them. After reassessing the space for the first time in person, we cleared the room of all unnecessary contents and rolled out the new nuLOOM rug to admire its beauty. For the next few hours, we picked up the Valspar paint from Lowes in three pretty pinks and shopped for additional items in At Home, Marshalls and Home Goods. I'd already located some beautiful blush velvet drapes from West Elm and flew in with Zaria's new lucite and brass curtain rod, a Home Goods purchase that I'd been selfishly hoarding for months, but couldn't dare keep out of this design. We also found the perfect lucite-legged lamp to match. Thanks, Target!
Once all the shopping was done, I came back two days later to begin painting. Now let me tell ya…I have a newfound respect for professional painters and accent wall DIYers! This was such a tedious process perfectly positioning the 3M Scotch Blue painter's tape on the wall stopping to measure, level and reconsider spacing with every inch of tape, and backbreaking work painting the entire room with only paint brushes and rollers (TRUST ME, I'm hiring someone next time! LOL). We weren't even certain what design the accent wall would have before I arrived that day. I knew Zaria hated chevron stripes, but I had this vision of a V-shaped, ombre design in my head and I'm so grateful I convinced Zaria to let me try it out. "I'm open!" she'd always say with a confident nod and enthusiastic shrug. With the right colors, zero sleep and a TON of effort, the room's new colors slowly came to life!
Though completely exhausted, there was no better feeling at the end of this project than watching the sunrise in this beautiful new space. Just WOW.
Here's how it all turned out: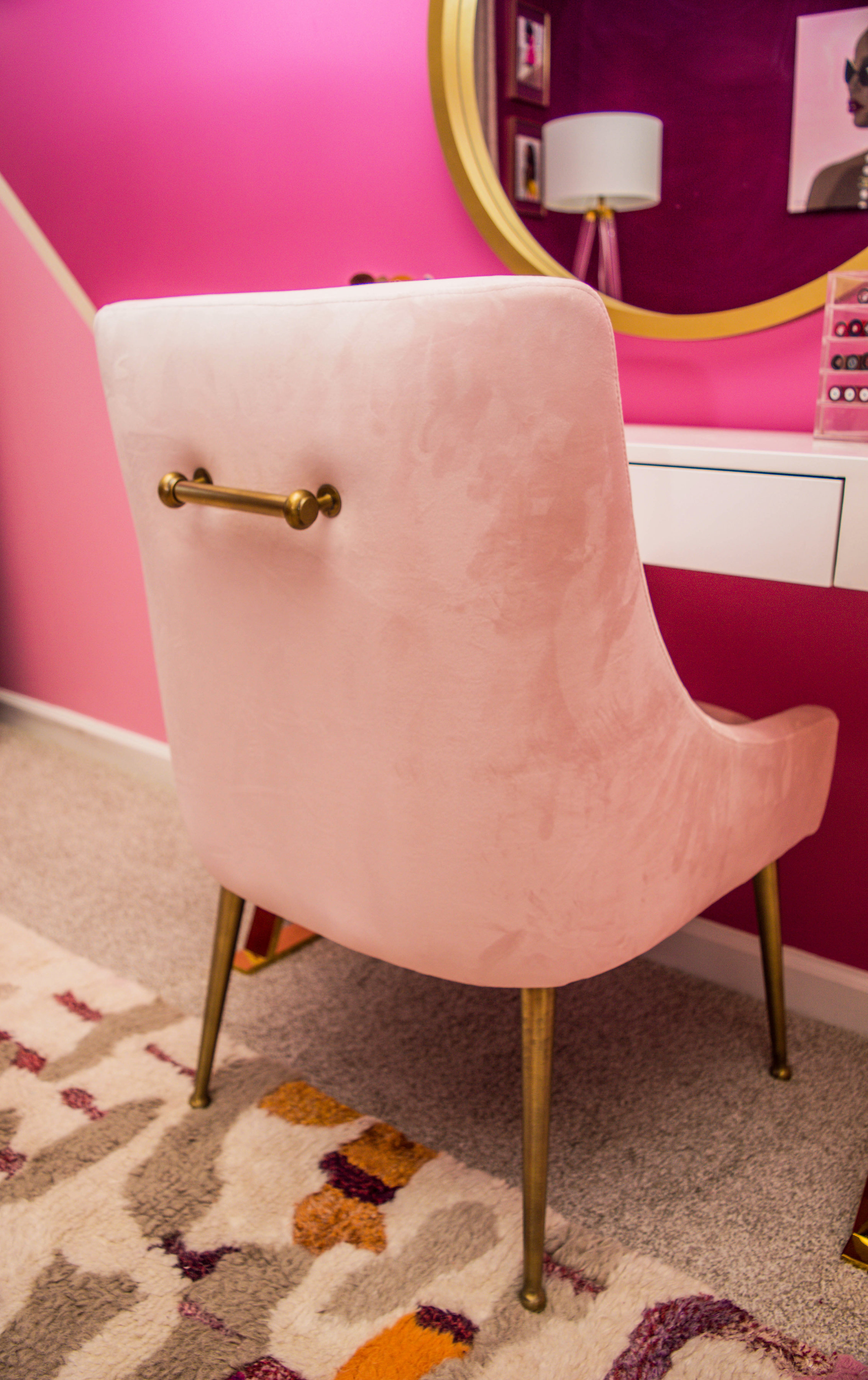 In her design questionnaire answers, Zaria stated that she wanted the space to be bright, girly, fun and bold, just like her fashion sense. Mission Accomplished! This berry-colored room is as sweet as Zaria is and I'm so glad she's in love with her new glam space! I didn't want to leave this one, I really didn't… :-)
I'll reveal the rest of her home makeover (Yes, there's more! Her living room, dining space and master suite - all coming soon!) in a Part II blog post this fall, but for more photos of #ProjectRaspberryBeret, head over to my Portfolio.
Be blessed!
ACG
Design Deets:
Wall Color: Valspar – Brown Cherry, Nice Berry, Hushed Rose
Rug – nuLoom – RugsUSA, Overstock
Vanity Mirror – At Home
Table/Desk – Luxe Décor
Chair – Tov Furniture
Artwork – Oliver Gal, Wayfair, At Home
Picture Frames - Target
Chaise – Joss & Main
Floor Lamp – Target
Bookcase – Wal-Mart
Clothing Rack – Wal-Mart
Curtain Rod – Home Goods
Drapes – West Elm
Sequin Pillow – At Home
Vision Board – Home Goods
Accent Wall: Me ;-)
Professional Photography – Brandon Grate Photography